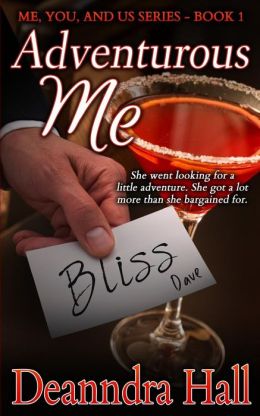 Tammy's Review for "Adventurous Me" by Deanndra Hall:
Patricia Stinson wasn't looking to start over after 30 years of marriage, but her husband didn't leave her with a choice. When Patricia goes out with her best friend to drown her sorrows and have a little fun, She runs into Dave. As she is talking to him, she finds herself drawn to him. She admits that she is looking for an adventure in her life, and although she doesn't know it at the time, he is just the man to give it to her.
Clint Winstead wasn't looking to start over either. He had went through so much in his past marriage, he was content to be alone for the rest of his life. However he does spent time at the BDSM club called Bliss and occasionally hooks up with a lady to help him feel a little better and relieve a bit of stress. When Patricia shows up, He finds himself fascinated with her and feels there is something about the new woman that draws him to her.
When they are thrown together for two weeks, more then just sex draws them together, will they both be able to overcome their past to see what is right in front of them, or will this be another heartbreak for Patricia and Clint?
Deanndra Hall is a fabulous author, and her book Adventurous Me is everything you want to find in a book. It made me laugh, cry, and want to scream at Patricia and Clint. Its a book filled with laughter, heartbreak and touching moments. I will definitely recommend this book to anyone that will listen.
~ BUY LINKS: ~